Putz wrote:
Or you'll end up like me!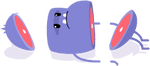 Popcorn is the item that Pillock eats just like his Medicine. It only appears in the MIFF clip.
Appearance
The popcorn appears as regular popcorn stored in a standard popcorn bag.
In the theater, Pillock consumes his popcorn just like his medicine, throwing the bag up and popcorn flies into his mouth.
The animation used is the same as in the song video.