The channel DumbWays2Die is the channel that created Dumb Ways to Die and its series.
It also made a related ad for the Melbourne International Film Festival.
Dumb Ways to Die
Edit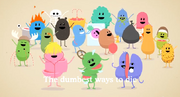 This is the main video that started the craze. It was the video about safety around trains which went viral. It was a big hit with the Cannes Advertising Festival and reduced Melbourne train accidents by 20% within the first three months of the video's upload.

Dumb Ways to Die - Official Karaoke Edition
Edit
On November 26th 2012, 12 days after the first video's debut, a karaoke version was made. It was the instrumental version of the original video of Dumb Ways to Die.
On July 25th, 2013, an ad for MIFF was uploaded. It was a short clip of Hapless using his cell phone in a movie theater, then getting his head bitten off by another character next to him. He probobly was Dunce. (He is seen turning his head away from Hapless)

On Febuary 14th, 2014, DumbWays2Die uploaded a video featuring Dunce and Ninny as a couple. It shows Dunce ripping out his heart for Ninny.[1]
---
↑

It is revealed that she is a female in this video.
On April 1st, 2014, DumbWays2Die released a video featuring a new character- Numpty's Son. he is revealed to have been the one to set his hair on fire.

See main article.
See main article.
See main article.
See main article.
See main article
See main article.
The Spanish version of Dumb Ways to Die.
See main article.
Putz wrote:
Or you'll end up like me!